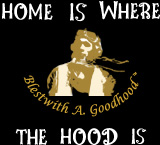 Description
Nobody ever detailed the boundaries of Chicago's neighborhoods until Big Stick.

Unfortunately, though, this map will get you lost – lost in its 237 robustly hand-tooled neighborhoods riveted to their intrinsically redoubtable cityscapes. Did you know maps are older than books? And so it follows that neighbors are older than maps – and it was you and your forebears that crafted these rugged pavilions of democracy. So, you won't stay lost – this map will find you.

IMPORTANT: Our Third Edition now supplants our Second Edition as the most thorough and comprehensive map ever done on Chicago neighborhoods, neighbor.
Pricing Details
Chicago Map:
$50: (includes shipping & handling)

Professionally Matted and Framed: ($235)
We can also provide this map to you mounted on gatorboard in an aptly matching Gun-Metal frame with plexiglass for $235. (this price is the total cost and includes shipping and handling.)



Please Place Order Here
(all prices include taxes, shipping & handling)

IMPORTANT: All Three Editions of the Chicago Neighborhood Map are now available all together for only $90.00.
Chicago 3rd Edition ($50)

Matted & Framed ($235)

Chicago Triple Play ($90)
Includes:
- Chicago 1st Edition
- Chicago 2nd Ver. 2nd Edition
- Chicago 3rd Edition
Prefer not to use a credit card?
We don't require a credit card to place an order. If you prefer to use an alternative payment method, please contact us for details:
a) Email: info@bigstickinc.com
b) Call: (630) 432-5006