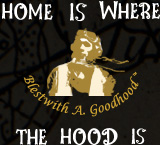 BIG NEWS
"Big Stick begins free distribution of its new Third Edition of the Chicago Neighborhood Map to every school, police station, and firehouse in the city of Chicago. All made possible by the supreme generosity of the Third Edition's sponsor, EastLake Development & Management, Corp."

"Big Stick releases the Staten Island Neighborhood Map, the first of the five New York City borough maps constructed under the theme
Five Boroughs for Five Centuries."

"The Chicago Historical Society announces the selection of the Chicago Neighborhood Map for inclusion in its new gi-normous Chicago History Exhibit set to open in the fall."

"Make our day, indeed! Clint Eastwood has selected our Chicago Neighborhood Map to appear in his new movie, Flags of Our Fathers. And that would make any cartographical punk feel lucky."

"The Chicago Neighborhood Map is named to co-star in Universal Pictures upcoming release, The Break-Up, starring Vince Vaughn and Jennifer Aniston. Set in Chicago, we wish Jennifer and Vince only the best trying to upstage our scene-stealing talk-of-the-town."
BIG STICK™ MAPS
You'd be lost without 'em
Carried coast-to-coast by:
- Barnes & Noble
- Rand McNally
- Amazon.com

Appeared on:
- ESPN
- Fox TV
- HBO
- Lifetime
- PBS

Featured in:
- Chicago Tribune
- Minneapolis Star Tribune
- Seattle Magazine
- Seattle Times

Acquired by:
- Cornell
- The Cradle Foundation
- Dartmouth
- Harvard
- Yale
- IL House of Representatives
- Penn State
- Stanford
- Universal Pictures
- University of Chicago
- University of Illinois
- University of Minnesota
- University of Washington
- and many, many more
colleges
high schools
grammar schools
galleries
museums
bookstores
real estate companies
appraisers
developers
banks
suburbanites





Charting the neighborhoods of America's great cities and other hearty enclaves




Chicago
Neighborhood Map
First Edition


Chicago
Neighborhood Map
Second Edition

Chicago
Neighborhood Map
Second Version
Second Edition

Chicago
Neighborhood Map
Third Edition




Boston, Brookline,
Cambridge
Neighborhood Map

Milwaukee
Neighborhood
Map

St. Louis
Neighborhood
Map

Seattle
Neighborhood
Map




Minneapolis - St. Paul
Neighborhood Map

Archdiocese
of Chicago
Parish Map


All - World Monster Map







Staten Island
Neighborhood Map


Brooklyn
Neighborhood Map
(2008)



Manhattan
Neighborhood Map
(2008)